SUSTAINABLE TRAVEL: TAKE ONLY PICTURES, LEAVE ONLY FOOTPRINTS
Sustainable Travel is the management of all resources in such a way that economic, social, and aesthetic needs can be fulfilled while maintaining cultural integrity, essential ecological processes, biological diversity, and life support systems. – The World Tourism Organization
As travelling becomes accessible to more and more people, more and more locations across the world are vulnerable to the impact of mass tourism, which has undoubtfully a strong impact on the environment and can influence forever local biodiversity, local culture and the experience of future visitors. Indonesia and the Gili Islands are no exception and the environment has changed dramatically due to massive tourism-related investments and the increasing presence of international visitors. Luckily, environmental awareness is spreading and eco-travel is now a reality; many businesses are adopting eco-friendly practices on their premises and sustainable development projects are being implemented in some hot-spots across the archipelago. Indeed, sustainable travel does not only preserve the natural environment for the benefit of future tourists, it preserves the environment in order to meet the current and future needs of the local community and funds conservation. In addition, it incorporates the activities of tourists and travel companies into the local economy in order to empower local businesses and traditions.
You can also make a difference by being a conscious traveller by respecting a few tips that will make your travel experience great for you as well as for the place you are visiting!
Sustainable Gili Islands
"Every day we create more than 20 tonnes of rubbish on Gili Trawangan alone. You can be the difference to help stop our island drowning in rubbish! Small changes make huge differences!
Bringing a reusable bag, refilling your water in a refill station, attending a beach clean or even as simply as saying no to plastic straws in your drink can help us keep our paradise plastic free, sustainable and beautiful for the future.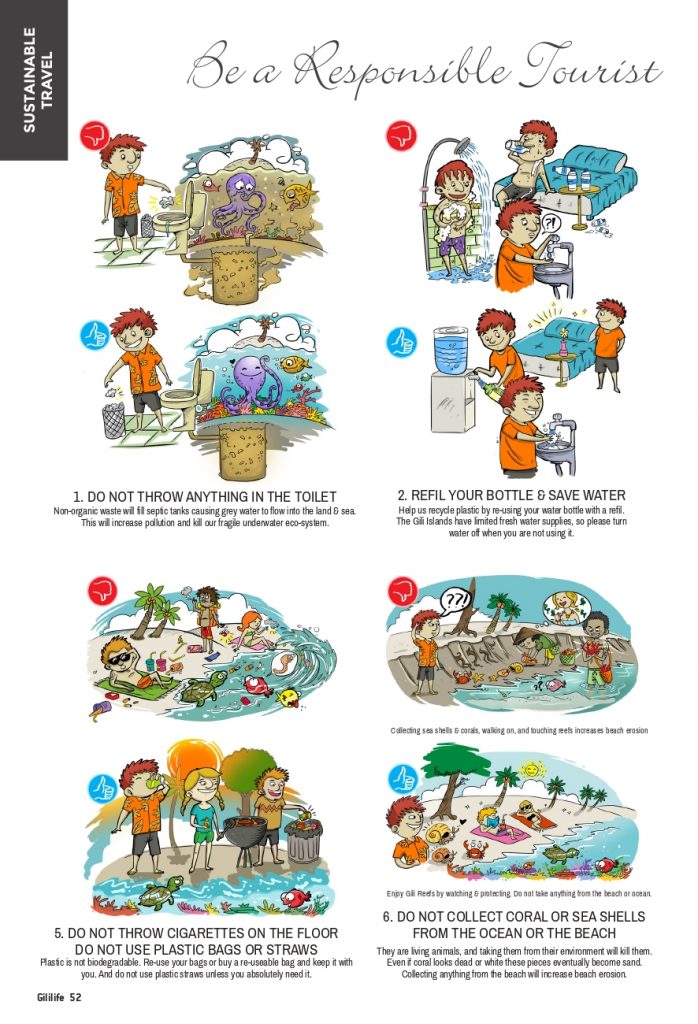 Limited water and power supply as well as the lack of a reliable waste management system are some of the factors that demand extra attention for businesses and travellers in the Gili islands. More and more properties are adopting an environmentally friendly approach, carrying out activities imed at preserving the natural environment. Beach clean-ups are organised regularly across the three islands and initiatives such as "Dive against Debris" allow divers to contribute to cleaning the underwater world around the Gili islands. Organisations such as the Gili Eco Trust collaborate with local businesses on several activities such as regeneration and protection of coral reefs, prevention of soil and beach erosion, beach clean-ups, education and awareness campaigns, garbage recycling and waste management, clinical care for the Island's animals, scientific research on coral reefs with universities. Learn more about their projects and donate at: Global Grassroot Funding
Make your choice wisely when choosing where to eat, dive and sleep. Opt for places where waste is separated, no plastic is used and that are involved in conservation and recycling activities. You can also actively be involved by taking part in one of the many clean ups, enquire at your hotel or at the dive centre of your choice!</p>
Lombok and Sumbawa Eco-regions
"A lot of development in Asia doesn't take care of the environment and it doesn't cooperate with the local people. So there's a window here to go in and make sure that Indonesia's natural assets — its land and marine biodiversity and people — benefit from development."- John Higson, Eco Regions Indonesia CEO
An EcoRegion is defined as a geographical area where environmental protection, economic sustainability, social inclusion and spiritual harmony are in balance, ensuring that the resource use meets the needs of the community, government, investors and visitors while preserving the environment and developing the economy for future generations. In collaboration with the Indonesian Government, Eco Regions Indonesia has established two EcoRegions in the area around the Gili Islands: Tanjung Ringgit EcoRegion (3,000+ ha) on south east Lombok and Eight Islands EcoRegion (20,000+ ha) on NW Sumbawa. An important aspect of the concept is its effect on regional economic development, which is a key goal of President Jokowi. By creating green rules that attract private partners as well as soft funding from governments and green funds, a large regional economic regeneration can be created in each EcoRegion. The project encompasses sustainable policies regarding landscape design, community empowerment as well as guidelines to businesses for the sourced materials and practices. No motorized vehicles, plastic or unnecessary packaging are allowed in the Eco-Regions, which will also become a KEK, or special economic zone, a model that create environmental protection for large tracts of land and create a platform for green investment, introducing a variety of benefits such as tax holidays, reduction of import duties, longer visas, less restrictions on setting up businesses etc.
More information on http://www.eco-regions.co.id/